Like all good things, it began in a bar…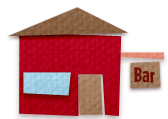 Mike Evans gingerly sipping his Scotch, Matt Maloney unabashedly knocking back rye Manhattans Appletinis as the night devolved into what can only be described as armchair entrepreneurship. The two revisited a question they had asked in unison earlier that evening while working late and dreaming of dinner:
"Why, given the available technology on this earth, is there not a website that will tell us who delivers?"
And from that question and a few scribbles on a mustard-stained bar napkin, this Internet giant was born.
With an eye toward becoming the best destination for ordering food online, they began immediately. Working the phones tirelessly to discover who delivered, hitting the freezing Chicago streets to talk to restaurants about the then-novel feature of online ordering and staking their claim as an authority on the Second City's restaurant scene.

Diners poured in and investors took note. More employees were hired; the service expanded. From Chicago to San Francisco, San Francisco to Boston. By early 2011, we had reached 13 cities and secured four rounds of funding. We'd grown into and out of three offices and brought on over 100 employees.
And then, in the early autumn of 2011, came the biggest moment in our short-but-exceptional-history: we raised 50 million dollars in cash and used a chunk of it to acquire a little company known as Dotmenu. And by "little," we mean "huge." See, Dotmenu ran these other companies, Allmenus and Campusfood. Overnight, we tripled in size and took up residence on 400+ college campuses. By the start of 2012, we were in more than 300 American cities. By the end, we were in 400+.
So, you know, we've grown a little bit. But the goal hasn't changed. The plan for 2013 is the same as it was way back in 2004: to be the best place in the universe for finding and ordering food. We'll keep working on that. You keep eating.