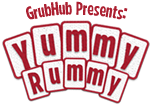 Here's how it works
Order 3 times, play the game. It's that easy.
Win free food for a year.
That's right, go ahead and burn that grocery list right now.
Other Glorious Prizes:
Win $5, $10, $20, $100, or $200 off your tab. Party in the USA, indeed.
Free Dessert
Much like our third grade teacher, we also think the second "s" in dessert is for "seconds."
Free Drink
Scientists agree - they taste even better when they're free.
There's a 1 in 4 chance at free food in every game.
For official rules and information on how to play when you don't see Yummy Rummy on the website, see here.
Have Questions? Take a look at these FAQs.
Q: What the heck is this?
A: Yummy Rummy is just a lil' way to show you, our esteemed diner, a dash of love. You get a chance to win free food, just for doing something that you already do, we get a chance to write bad puns (see Yummy Rummy) and practice our Photoshop skills. Everybody wins!
Q: How do I earn a play?
A: Nothing special here—just order on GrubHub. After you place three orders, you'll be invited to play a game of Yummy Rummy. And, because we're nice, you can always play after the first order. Here's a valuable tip: you can also play by mailing a postcard to us. See the official rules for details.
Currently, Yummy Rummy can only be played on the website, so we can focus on giving you the best Yummy Rummy experience. However, you'll still earn plays all the same when you order on a mobile device or submit a postcard. Then just log into your account on the website to use any plays you have earned, or we'll play on your behalf.
Q: What can I win?
A: Free drinks, free desserts, and GrubHub credit in a handful of different values – $5, $10, $20, $100, and $200. Then there's the really, really big one: free food for a year. It's a credit worth $1560, which breaks down to one $30 meal every week for a year. Party time!
Q: How do I redeem a prize?
A: Once you win a prize, it hangs out until you come back to place another order, up until it expires. When you're placing that next online order, applicable menu items (desserts, drinks, etc.) are highlighted in a light blue shade on the menu itself. Add any one of those items to order and you'll be asked if you want to use the discount. If you want to save your prize for a later order, or use it on a different eligible item, you can do that, too. Please note, prizes can only be redeemed on the website, not on mobile devices.
Q: Can I use these prizes at any restaurant?
A: Your prizes can be redeemed at roughly 98.7% of GrubHub restaurants. If you do happen to land on one of the few where prizes are a no-go, we'll give you plenty of warning.
Q: Who pays for these prizes?
A: GrubHub funds all prizes in full. It's our way of showing you a little love.
Q: Do my prizes expire?
A: Yep, most prizes expire 10 days from the date of your victory. Larger prizes, $100 and $200 in Free Grub, expire after 90 days. Free Food for a Year–that baby is good for, well, a year. Expiration dates are posted on every prize.
Q: What are my chances of winning?
A: Technically, our library of knee-slappin' videos and pictures make you a winner every time. As for real, actual prizes, every game of Yummy Rummy hides a monetary prize in one of the four cards. For explicit odds per prize, check out the terms and conditions of Yummy Rummy Sweepstakes.
Q: Do I have to play? Can I opt out?
A: If you don't want to play, you don't have to play. To opt out completely, please call customer care at 877-585-1085. If you change your mind, you can opt back in by calling that same number.
Q: I entered through postcard - what do I do now?
A: Just sit back and wait! Once we receive the entry, and if your accumulation of post card entries entitles you to a game play, we'll process the play and see if you've won. In case you win, you'll get an email with the prize shortly after we process the play.
Q: How many prizes can I win?
A: There's no limit on prizes per customer.
Q: Can I use multiple prizes at a time?
A: Yep. Just apply each prize as usual.
Q: What counts as a free drink or a free dessert?
A: Menu items that qualify as a free drink or free dessert will glow a light shade of blue to highlight their, um, "freeness" on the restaurant's menu. Add one of them puppies to your order to use your prize.
Q: I won a prize, but I can't use it right now? What's up with that?
A: Prizes are redeemable on future orders only, not on orders that you've just placed. If you just won a prize, it will appear on your account within an hour or two.
Q: Where do I find my current prize status?
A:
You can always check on your status by logging into your GrubHub account and clicking on the YourGrubHub tab. There, you'll find a section with your current stats.
Q: Are there times when I can't use a prize?
A:
You can't apply your prize to phone or cash orders. Prizes may not be combined with other GrubHub promotions.
Q: Can I give my winnings to a friend?
A:
Sorry, no. You may, however, share our delightful parting gifts via Facebook and Twitter.
Q: I canceled my order, what happened to my prize?
A: The dingo ate your prize. No, actually, your prize will be returned to your account. And then you'll use it on a future order. Yay!
Q: Why does the receipt that came with my food show the wrong total?
A: The receipt that comes with your food is the same receipt that GrubHub uses to communicate the cost of your order to the restaurant. GrubHub covered the free stuff, but we still need to let the restaurant know it's paid for. The order receipt on the confirmation page and the email receipt from GrubHub will show the correct price.
Q: Is Yummy Rummy back for good?
A: Yummy Rummy will be around through 2014, but, after that, our Magic 8 Ball says the future looks hazy.
Q: Can I play Yummy Rummy on GrubHub Labs?
A: Yes and no. As long as you sign in, you'll be able to earn plays on GrubHub Labs just like normal. However, to redeem your plays, you'll have to visit the current GrubHub to reminisce a bit.
If you have any further questions, or would like a shoulder to cry on, give customer care a holler at 877-585-1085; They're good at making people feel warm and fuzzy.